Wire Alert
 - Human Rights News

WIRE alert: human rights news from around the world
Dear supporter,
European police forces are increasingly using violence against peaceful protesters. In the May/June issue of Wire we look at why we need to keep a closer eye than ever on how demonstrations in Europe are policed.

Also in this issue of WIRE:
Iran's new Cyber Police is forcing bloggers and social media users offline, with plans to limit access to the internet and replace it with a state-run intranet.
Why are cargo ships still delivering arms to states that abuse human rights?
Amnesty International's 50th anniversary year round-up, including a look at how social media has revolutionized campaigning in Italy.

ACT NOW

For World Press Freedom Day on 3 May, support journalists who are risking their lives across Africa

People in Tibet and across China are protesting against repression in increasingly desperate ways. Urge the Chinese government to allow free expression.

Act on our World Wide Appeals

PLEASE HELP US TELL MORE STORIES THAT INTEREST YOU – TAKE OUR SHORT READER SURVEY AT SURVEYMONKEY.COM/S/WIRE2012

Until next time,
Kristin, Editor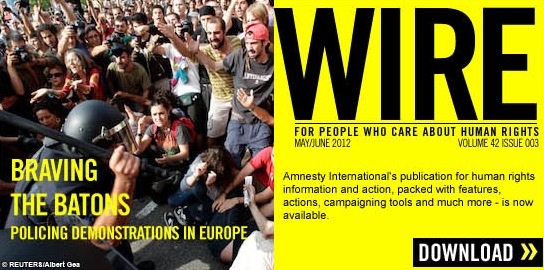 Above: Riot police disperse an anti-austerity demonstration in Barcelona, Spain on 27 May 2011. Police repeatedly hit peaceful demonstrators with batons, and shot at them with rubber bullets and blanks.
© REUTERS/Albert Gea
---
Amnesty international teams blogging from the ground:
South Sudan/Sudan: The human rights crisis behind the political spat
"The spectre of war between Sudan and South Sudan has loomed large during our time at the Yida refugee camp over the past week. Along the increasingly tense border, the mounting conflict between the two countries has loomed in the background as both a distant spectacle and a sinister threat."
By Alex Neve, Secretary General, Amnesty International Canada, and Khairunissa Dhala, South Sudan Researcher, Amnesty International
In pictures: People live here, say thousands of activists across Africa
From N'Djamena to Harare, Cairo to Accra, Port Harcourt to Nairobi: between 17-25 March, thousands of people from slums and settlements called for forced evictions in Africa to stop. They campaigned and protested alongside local housing rights activists, partner oranizations and Amnesty International.
A prisoner at the central prison in Nouakchott
By Bridget Burrows, Africa Regional Campaigner Slums, Amnesty International
---
Join our Online communities on Twitter and Facebook at the Global Activism Center

Amnesty International
International Secretariat

1 Easton Street




London

,

WC1X 0DW




United Kingdom
www.amnesty.org
Who We Are
How You Can Help
Learn About Human Rights
News
Become a Member